Having watched a few episodes of Below Deck Mediterranean and a way to get some travel education while we cannot travel right now, I decided to start the original Below Deck series with season 1. As someone who gets seasick, I know I could never be one of these yachties. This season takes place in the Caribbean in 2013 on the yacht Honor worth $20 million.
I haven't been to the region in quite a few years but hope to get back soon, maybe on a Disney Cruise Line. I have recently booked a repeat customer for a 10-day cruise on Celebrity Cruises for August 2021. I am excited for this family to enjoy the Caribbean, preferably less stressful than this young cast.
Though it's been several years since it has first aired, here are my thoughts on the season 1.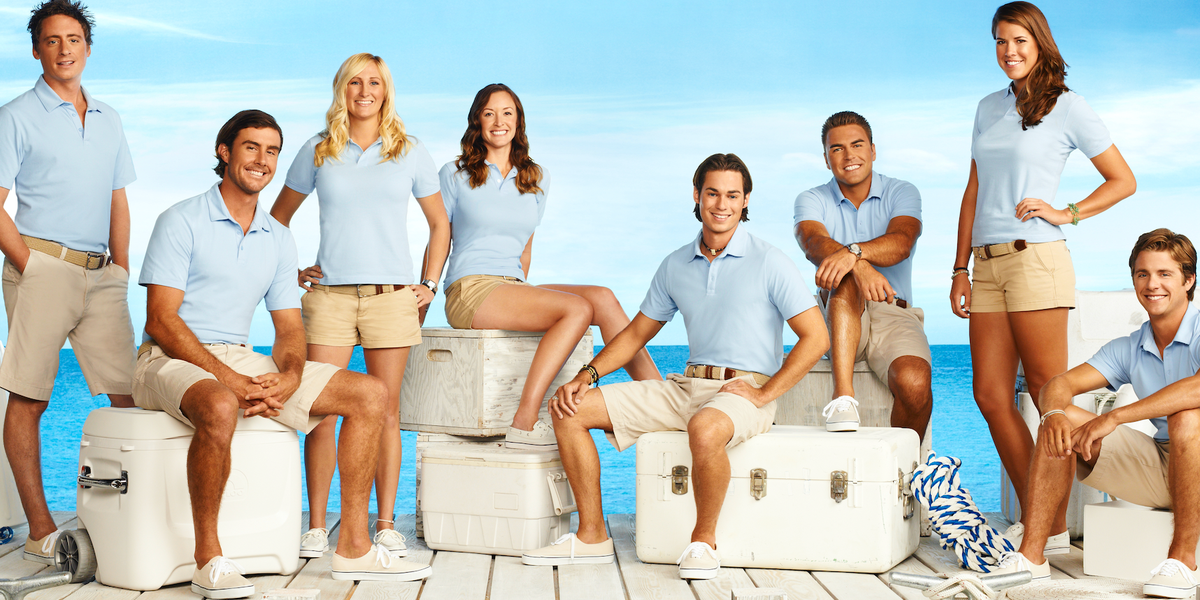 The Boat
Before my years at a real estate law firm, I interviewed with a San Francisco law firm with superyachts. This would have been my closest experience to being on a yacht or working with one. It would have been great to experience a yacht like The Honor even while docked. It looks amazing. Of course the living area for the guests is gorgeous and spacious, but the quarters for the staff are tight and confined. My first cruise was on the Celebrity Reflection for 14 days in the Mediterranean. It was an inside cabin with two twin beds. I'm sure the guests' smallest room is way bigger than the staffs' cabin below deck.
Captain
Captain Lee seems like a hard ass. His brief appearance on the reunion episode clearly shows that he wasn't adored or missed since the end of the season. It's tough being the boss and being in charge of a mobile $20 million yacht plus all those on board. With the amount of pressure, I would probably be a bit high-strung as well. In comparison to Captain Sandy on Below Deck Med, I think she was able to connect a bit better with the crew. It makes all the difference.
Staff
There are a lot of issues that come up, otherwise this wouldn't have a show, right? Not to focus on romantic relationships on board, other topics for discussion include drinking and boss-employee relationships.
Drinking on the job is a big no-no for me…unless you work for the entertainment and restaurant world like I have. A lot of these reality shows provide a lot of liquor to get cast members intoxicated in front of the camera to entertain viewers like us. Kat, a Stewardess, got plenty drunk off charter. And let's be real, on charter as well. Most of us have had a bit too much too drink at one point in time. During the reunion show, it is nice to see that Kat has reflected on her experience and is making healthier decisions for herself. Good for her! I wish anyone on the same path a lot of success.
The power struggle between Adrienne, the Chief Stew, and Sam, the other Stewardess is frustrating. As much as I love Sam's name, the lack of respect and constant smirk would get under my skin as well. Clearly, customer service is not for Sam. It is challenging when someone like Adrienne needs a good worker but can't get the results after attempts of finding a solution. I think Adrienne just wanted to do a good job but I do agree she could have lead by example more. Perhaps pick up a rag too, take the time for training and re-training (which they say they didn't have time to do), etc. I am not sure if it's the show and timing, but perhaps the show was creating these limitations to prevent things being done correctly and creating these unnecessary struggles.
My favorite crewmember remains to be Chef Ben Robinson. He's just a cool cat and makes funny comments. I have dealt with many Chefs in my day. There are ones that seems to hate their life and strive to make everyone else around him miserable. Then there are those that are sweet and sane and kind, but like anyone else, has a breaking point.
Side note, one episode did start a craving for pancakes. Thanks, Chef Ben. I have been enjoying 1Up Nutrition protein pancakes once or twice a week now.
Crew
I don't think I can work, eat, party and sleep with the same people for weeks on end. It makes sense why this show makes good television. People are placed in unique living situations and filmed almost every minute. During the pandemic, I am finding that I have become a bit anti-social. I have grown accustomed to my space, the quiet and doing things on my own, when I want or with my favorite person. I think the person I would be able to live with from the show would be Ben. What about you?
Guests
Oh, people. They can be absolutely terrible, can't they? We have all heard about the Karens and the Kens of the world during this pandemic. If you're rich, poor, middle-class, there are terrible people everywhere. The charter guests are rich. They can spend $200,000 for a week-long charter on the Honor. They get 5-star, customized meals 24-7 and they can treat the crew with very little respect. One charter guest this season sexually harassed the ladies in front of his own female guests. They bring drugs aboard. And they just want the sun and the moon at the snap of their fingers. Working in the service world myself, I feel for this crew. But it is the job you selected so you have to roll with the punches.
One couple did get married on the Honor. As a Wedding Planner/Event Planner, I found this episode fun. I would ask Adrienne to step aside and let me do my thing.
Location
The area was great. Most of the season was shot on board. Below Deck Med showed a lot of the Mediterranean. I was hoping to see more than just the dock and local restaurants. I didn't learn much about the Caribbean during this season.
Food
Again, well done to Chef Ben. Everything he plated looked delicious. At the end of the season, it stated he was taking an vegan education course. I am sure he has green juice recipes a hundred miles long. I was hoping they would have showcased more local, unique food offerings from the local stalls. Maybe some conch, guava berries or local fish. But, this isn't the Food Network.
Money
As mentioned, you have to have a lot of money to charter a yacht like the Honor. Unfortunately, I am not in that tax bracket. But wouldn't it be nice to have? A big part of the show is when the tip from the guests is distributed to the crew. Three-hundred dollars a day on top of your salary is not a bad gig. If you can deal with the sea sickness, the demands, WANT to learn and can respect your superiors, check out how to get casted!
I am about to start Season 2 and I have no idea what I'm in for.

Are you a fan of the show?
Who's your favorite crew member from this season and why?